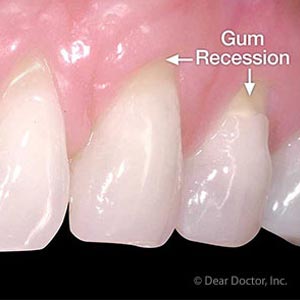 If it seems like your teeth have gotten longer, it's not likely they've magically grown. The changed appearance, often accompanied by tooth sensitivity, may mean you have gum recession—the gums have actually shrunk back or receded from the teeth.
Ordinarily, the gums cover the teeth to the edge of the crown enamel, but if their attachment to the teeth weakens, the gums can shrink back, exposing the tooth below the crown near the roots. Although recession can happen because of overzealous brushing or other forms of trauma, the most common cause is periodontal (gum) disease.
Gum disease usually begins as a bacterial infection in the tissues around the gum line, usually triggered by a thin film of bacteria and food particles on tooth surfaces called dental plaque. Unfortunately, the infection rarely stays there, but can quickly spread deeper into the gums and eventually impact the roots and supporting bone in the jaw. The infection also weakens the gums' attachment to teeth, resulting in recession.
While your smile can suffer from gum recession, that may be the least of your problems. Receded gums expose portions of a tooth that depend on gum coverage for protection against disease. Gum coverage also muffles sensations in these areas of the tooth, so that without it affected areas can experience a sharp, painful response to sudden hot or cold temperatures.
Fortunately, you may be able to avoid recession if you take steps to minimize your risk of gum disease. Your chances of an infection go down significantly if you gently brush and floss daily to remove dental plaque and you see your dentist regularly for dental cleanings.
If you do develop a gum infection, it's crucial to have it treated as early as possible. A mild occurrence of gum recession might even reverse on its own after comprehensive treatment (more advanced recession can require grafting surgery to encourage regeneration). Be on the lookout, then, for signs of gum disease—swollen, reddened or bleeding gums—and see your dentist as soon as possible if you do.
Protecting your teeth and gums can help you avoid gum recession. And should you experience recession, addressing it as soon as possible may help you regain normal gum coverage.
If you would like more information on gum protection and care, please contact us or schedule an appointment for a consultation. You can also learn more about this topic by reading the Dear Doctor magazine article "Gum Recession."